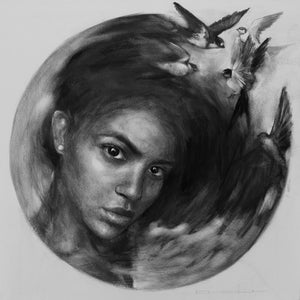 High-quality print using archival ink on 100% cotton smooth fine art paper.
Image size 10" x 10" with 1" extra border added to all sides. Shipped in a tube.
Sometimes we find ourselves in behavior patterns that must be broken, so life can blossom. This artwork is titled "Breaking the Cycle", the spherical shape makes reference to the cycle we are stuck on, the birds are coming from her hair and breaking the circle to gain freedom, her face shows strength and determination.
When we see our true selves, life starts to make sense because we finally understand that existence is based on any meaning we attach to it. There are always constraints, but even those can have the meaning we ascribe to them.